IFOP scientists train at the Ocean Research Institute in Germany
November 15th, 2023
Between October 24TH and 27TH, professionals Osvaldo Artal and Camila Soto trained at the GEOMAR Helmholtz Center for Ocean Research Institute in Kiel, Germany.
GEOMAR is the lead institution for the DITTO digital twin programme, which hosts several Ocean Decade projects and will enable ocean professionals, including scientific users, to create their own local or themed digital twins of "their ocean problem" using standard workflows.
Osvaldo explained "GEOMAR's training main objective is to familiarize ourselves with all aspects related to DITTO and digital twins and the advances in issues related to climate change and its impact on mixing processes, coastal upwelling, biogeochemistry and basin ventilation. . We met with Florian Schütte from the Department of Physical Oceanography, with Arne Biastoch from the Department of Ocean Dynamics, and with Andreas Oschlies from the Department of Biogeochemical Modeling.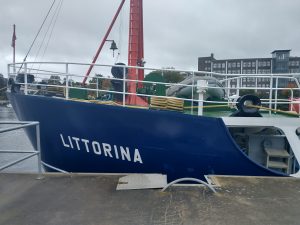 Osvaldo added "the main activities we carry out are:
This instance will serve as a rapprochement between both institutions, to internationalize and to expose numerical modeling within IFOP Aquaculture Division Environment Department development. In this way, we will be able to evaluate our strengths and challenges in the short and medium term."
Presentation to GEOMAR researchers about IFOP's work and role of the as an advisory body to the State and support to decision-making bodies.
Exhibition of our advances, developments and challenges in numerical modeling, ocean observation systems, the atmosphere, and data science. Which mainly focus on estuarine circulation, fjord dynamics, mixing processes and biogeochemistry.
GEOMAR presented the current state of digital twins in the world, focused on the advances developed at GEOMAR, such as the aforementioned digital twin of Cabo Verde. They showed us their advances in studies of mixing processes, coastal upwelling, biogeochemistry and basin ventilation.
Working groups for the integration of IFOP into the DITTO program, as well as to explore future collaborations in international projects and inter-institutional agreements.
Finally, mention that we hope to establish ties with GEOMAR researchers to explore common lines of research (which ideally result in scientific publications) and participate in future international projects."
Camila Soto-Riquelme has an Oceanography Master's degree from Universidad de Concepción and Osvaldo Artal has a Doctor in Physical Sciences from Universidad de Concepción. Both professionals focus on research into the dynamics of Patagonian fjords and estuarine systems using numerical models and oceanographic-atmospheric observation systems.
Press related links: