Chile participates in Joint Regional Cruise coordinated by South Pacific Permanent Commission
September 23rd, 2020
Colombia, Ecuador, Peru are also part of this.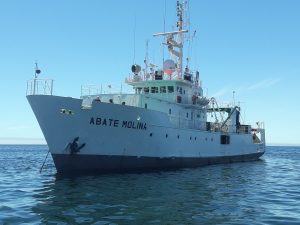 Between September 20th and October 15th, Chilean Fisheries Development Institute (IFOP) is carrying out the cruise associated to "Spawning stock of anchovy bio-oceanographic conditions and evaluation annual project. between Arica and Antofagasta regions, year 2020 " This cruise called MOBIO-MPH is in charge of Dr. Jessica Bonicelli and uses Abate Molina Ship as a scientific platform. It is part of the projects carried out by IFOP Oceanography and Environment of the Fisheries Research Division Department .
The Oceanography and Environment Fisheries Development Institute Department head, Dr. Jaime Letelier, explained that this cruise is part of the XXIII Chilean Joint Regional Cruise, carried out in parallel in Colombia, Ecuador and Peru, coordinated by Pacific South Permanent Commission (http://cpps-int.org/).
Dr. Letelier added that "this cruise is an international commitment to assess El Niño or La Niña phenomenon presence as well as South American coasts tanomalies that may affect national ecosystems. The joint cruise has more than 15 years history and has delivered one of the largest oceanographic data collections and Chilean off ocean variability knowledge "
At the same time, and as part of Fisheries and Aquaculture Decision-Making Advisory program (ASIPA), this cruise takes and analyzes samples that allow anchovy spawning stock evaluation between Arica and Antofagasta regions during 2020 spring, which will provide background information for available Anchoveta Biomass estimation during 2021. Information necessary for a sustainable and ecosystemic fishery resources management . In addition, the cruise is a structuring part for Marine Mammal observation information collection program whose objective is northern zone of Chile population estimation.