Abate Molina Scientific vessel set sail to investigate anchovy and common sardine
September 11th, 2023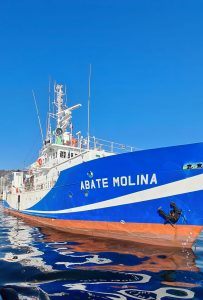 Captain Takashi Abe is in command of the ship, and the final call is expected to be on September 21rst in Valparaíso.
Abate Molina scientific vessel set sail on Saturday, September 2nd, from Valparaíso's port, and will sail for 19 days, to investigate spawning stock of anchovy and common sardine distribution, abundance and biomass between Valparaíso Region and Los Lagos Region.
This research cruise, led by Dr. Jessica Bonicelli from IFOP Oceanography and Environment Department, takes place during the maximum spawning intensity period for these species, when common sardines and anchovy eggs and larvae can be collected, at the same time that adult fishing is carried out looking for spawning females and in parallel meteorological parameters such as wind and oceanographic variables such as temperature, salinity, oxygen and chlorophyll are recorded in the water column up to a depth of 200 m.
All this information will subsequently be analyzed comprehensively to estimate, from this sample, spawning Stock total Biomass, that is, the number of females that are spawning the next generation of these species.
These data, their analysis and results, are key for sectoral authority since they allow decisions that have to do with sustainable development of these two fisheries to be supported with scientific information, especially considering Climatic change current context and intense El Niño. 2023, which may affect the short-term future availability of these hydrobiological resources.
Additionally, on this IFOP cruise, Universidad de Concepción Research Center in South-Eastern Pacific (COPAS COASTAL), is carrying out the field work of the project "Carbon fluxes and plankton diversity in climate transition zone of South Central Chile", directed by Dr. Camila Fernández. Therefore, two researchers from COPAS COASTAL will carry out biogeochemical parameters and a series of experiments in incubation mode continuous surface monitoring between Concepción and Puerto Montt of "in situ" in latitudinal progression aimed at monitoring physical-chemical characteristics that allow estimating flows. of CO2 to and from the ocean and identify species with biotechnological value. This joint cruise is part of collaborative actions that the IFOP has established with different national universities.
Press related links: