Abate Molina Scientific Vessel will tour the Atacama and Coquimbo regions investigating anchoveta
June 21st, 2023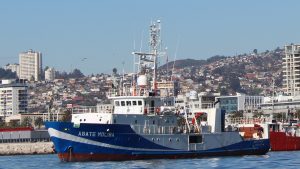 Abate Molina scientific vessel set sail today, September 6th, from Valparaíso's Port, to assess anchoveta spawning stock during maximum reproductive activity period and the oceanographic conditions associated with this process, in the area between Region de Atacama and Coquimbo.
It is the first time that, in this cruise, a project that IFOP has been carrying out since 2014, anchoveta eggs module and oceanography are carried out on the Abate Molina scientific vessel. This will allow both components to be carried out jointly and a study of the resource with acoustics in the first 20 nm of the area.
The research on board is led by oceanographer Hernán Reyes, the ship's captain is Enrique Quiero. Catherine Grendi, DOMA Researcher and head of this project, also participates in the cruise along with 13 more people including researchers and technicians and marine operators from Abate Molina, adding the scientific staff to a total of 15 people.
Hernán Reyes, scientific cruise's head explained "The cruise's specific objectives are anchovy eggs sampling, during the spawning period, and to determinate oceanographic, meteorological and planktonic conditions associated with eggs's distribution and abundance found on the cruise. These results will allow estimating anchoveta spawning stock.biomass.
In conjunction with Abate Molina, 4 boats will operate in the area that will carry out anchovy adults sampling , with the support of Coquimbo IFOP coordinator Omar Yáñez and scientific IFOP Coquimbo and IFOP Iquique observers.
Press related links: